Ribbon Cutting Ceremony for the New Field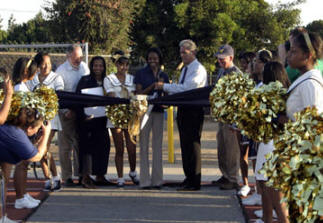 Remarkable as it may seem, my alma mater, John Muir High, FINALLY has a "Olympic Style" football field to play home games on and the stadium is not far behind. I graduated in 1970 and even then we played "home games" across town at Horrell Field (now Robinson Stadium), at PCC (Pasadena City College). Which meant that we always traveled to watch the Mustangs play football during my days at Muir.
It is called Walton Field and is named for Al "Weary" Walton. Coach Walton was a Muir Tech and Muir Junior College coach who, in 1934, won Muir's first State Championship in high school sports. The track and field was rededicated to his memory. A commemorative plaque on the large rock located on the southeast corner of the field was originally placed there during the John Muir College days. Discussion around naming the stadium (when built) continues. The names of a few of the great track & field and football coaches that have led Muir to its many CIF titles and championship meets are being considered.
Now. we have a place at Muir to play home games in style. It cost 50 cents to ride the "Rooter's bus" to the games back then and if we had this field then, I could have saved a "fortune" to attend those games. Well, we can all enjoy this great and overdue improvement to the school. Thank you voters of Pasadena for investing in the students of Muir and PHS (it seems that PHS got a new stadium built, too). We're happy for the students at PHS, too.