Email:
Alumni @ JMHSAA.org
You must include "JMHSAA" as part of the subject
line of your email or it
will be ignored.

U.S. Mail:
JMHSAA
P.O. Box 93367
Pasadena, CA 91109

Office Hours:
Tues. - Fri
11:00 AM - 6:00 PM
Saturday
10:00 AM - 3:00 PM
(626) 208-1351

x-101 Membership
x-102 Reunions
x-103 Scholarships
x-104 Special Events
x-105 Publicity
x-106 Turkey Tussle
x-106 Birdie Tussle
x-107 Hall of Fame
x-108 Homecoming


A portion of your purchase is donated to JMHSAA when you click the button above and shop at Amazon.com
Amazon Smile

Your Donation is
Gladly Accepted


John Muir HS
John Muir High School
1905 N Lincoln Avenue
Pasadena, CA 91103
(626) 396-5600
SCHOOL WEBSITE
Join the Muir PTSA
---
Pasadena Unified
School District
351 South Hudson Ave.
Pasadena, CA 91101

Student Transcripts
Records & Transcripts
(626) 396-3600 x88345

PUSD Website

©2017 JMHSAA
® All Rights Reserved
Updated 07/12/2017

Celebrating Over
a Decade of Service!

How to Ease
Reunion Anxiety
Feeling anxious about your reunion? Tips for a stress-free reunion experience from licensed professional clinical counselor Tina Grismer, Miami Valley Hospital:

Before the reunion, try to connect with someone you know is attending and possibly go together.

Consider helping with the reunion planning as a way to connect with former classmates before the event.

See if a partner or spouse will go with you.

Focus on what there is to look forward to and the pros of attending — not the cons.

Have realistic expectations for yourself and the event.

Remember that you can go for an hour and, if you are not having a good time, leave.
---
"Reunions really are a lot of fun - really!" - JH
Common Excuses for Not Attending a Class Reunion:

- I don't have time (family and work obligations).

- It's too far away (travel expenses).
- Not happy with my appearance, excuse.
- Not interested (nothing in common with class mates).

- I already keep in touch with everyone I would want to see.
- I'm too embarrassed (not successful enough; nothing to brag about)
Updated
October 11, 2017
5 Reasons To Attend Your High School Reunion
By Elaine Ambrose
You wear your favorite yoga pants and the "This Wine is Making Me Awesome" t-shirt, sit down with a bag of cookies, and proceed to open the mail. Then you choke when you see the letter about the pending high school reunion only six months away. There is no way you'll lose 50 pounds in time, so you tackle that second bag of cookies before it gets stale. And you cringe because your title of "Most Likely to Succeed" turned into "Most Likely to Wear a Bathrobe to the Store."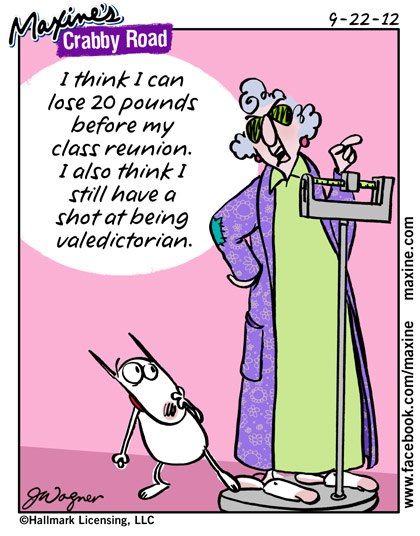 In my hometown of Wendell, Idaho, the annual combined class reunion includes graduates from the past 60 years. All ages come together to reminisce, shake their heads at the rambunctious youngsters, and moan about the loss of the playground equipment.

"Kids can't even play anymore," they mumble. "I remember how we fell out of trees, crashed off the monkey bars, and rode our bikes without a helmet. I hit my head so many times I forgot my name. These children will never know how to have fun like we did." (continued below...)
---
<![if !vml]>
<![endif]>
Is Your Class Planning a Reunion? Inquiring Minds Want to Know!?
Please, Send Us Information About Your Reunion Plans Today!!


Graduation in the Rose Bowl
One of the most unique Commencement Exercises in the world was enjoyed by Muir students.
One of the best memories of attending Muir was walking across
the world famous Rose Bowl field to accept your diploma.
Only Muir, Pasadena HS and Blair HS can make that amazing claim.
What a thrill, what an honor, what a memory!
...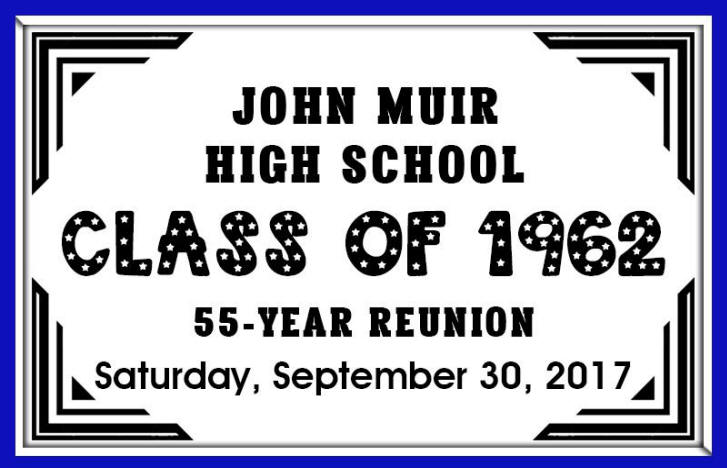 .
...
- 1967 -

John Muir High School Class of 1967 – 50th Year Reunion!
Saturday, July 15, 2017 at the Pasadena Hilton Hotel
Class representative: Wayne Yada
Contact: www.reunioncommittee.com or call 661-259-5999 to register

1972
The Class of 1972
Celebrates Noon at Mijares Restaurant
Saturday, Nov. 4th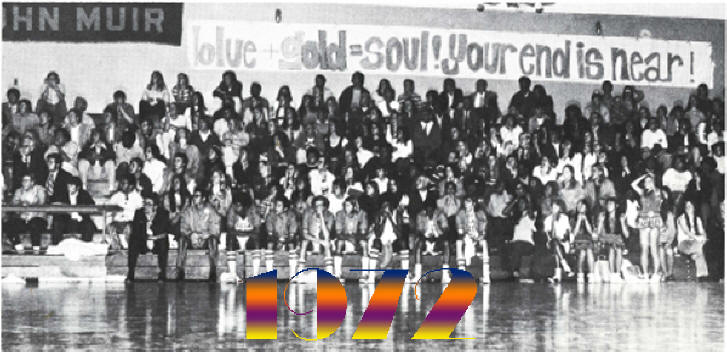 Mijares Restaurant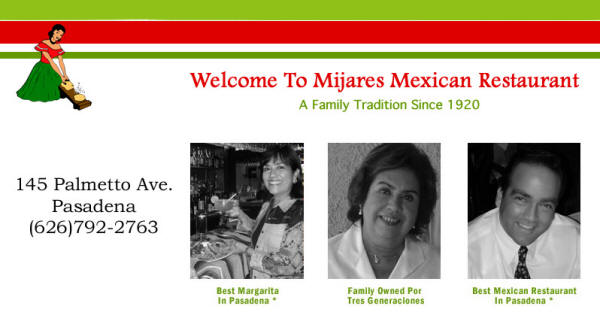 IS YOUR CLASS PLANNING ITS REUNION?
LET US KNOW
WE CAN HELP SPREAD THE WORD!
...
Class of 1977

Saturday, November 4, 2017,
7:00pm -12:00 midnight at Santa Anita Race Track Club House
285 W. Huntington Dr., Arcadia, CA 91007
$77.00 per person (until 7/7/17 then the prices will increase).

Make checks payable to "John Muir Alumni 1977" and mail to:
1726 Beverly Dr., Pasadena, CA 91104-2764

So lock in this special rate and purchase your ticket.
What better place for real Mustangs then at the track?

Please plan to attend, and let us know if you're bringing a guest!

Also, please scan and send photos that you'd like to share on the night of the
reunion in a group slide presentation. Please include fun/funny candid shots
of group activities during our school days, or reunions that you may have had
after our graduation. E-mail them to robdfog1@gmail.com

We're in the process of setting up a PayPal account to aide in making
payments for the event, but until then please pass on the word
to mail checks in ASAP because the cost will increase between now and the
event, and then again at the door, so place your reservation
while the initial ticket price is $77.00 each.

We are still trying to locate missing Mustangs of Class of 77.
Please share with us contact info of our classmates that you may have.

See you soon!
Your Class of 1977 Reunion Committee
johnmuir1977.com
1982
The Class of 1982
Celebrates Its 35th
Saturday, Nov. 4th at Mijares Restaurant

...
CLASS OF 1987 REUNION
STILL GOING STRONG

It seems like yesterday we were teens so young and hopeful and full of dreams.
It's hard to believe, but '30' years has passed, so let's reconnect and have a blast!

A night to remember at a premium location
Souvenirs / Meet & Greet / Photos / Cocktails /
hors d'oeuvres and appetizers.

Connect and network with former classmates and friends

Event Date:
Sat, November 4, 2017
7:00 PM – 11:00 PM PDT
Rose Bowl Stadium
Lounge (Free Parking in LOT F)
1001 Rose Bowl Drive
Pasadena, CA 91103

PAYMENT OPTIONS.....
1. TICKET PRICE IS $145 per person (plus processing fees)
2. FOR DONATIONS: We have an option for those who are unable to attend but would like to contribute towards the event.
LAST DAY TO PAY IN FULL: SEPTEMBER 30, 2017 ($145 plus processing fee)
Purchase tickets, Register and obtain further information at the Class of 1987 website:
https://www.eventbrite.com/e/john-muir-high-school-class-of-1987-reunion-still-going-strong-tickets-33410735409?aff=eivtefrnd
...
Class of 1992 Celebrates 25 Years

More details to follow

...
The Class of 1997
Celebrates 20 Years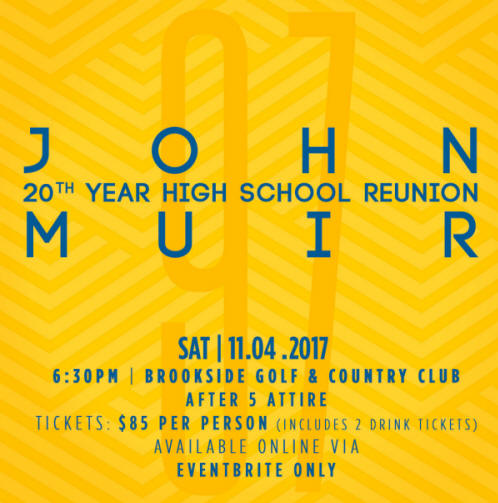 Join Us November 4, 2017 for our 1st Official Reunion Party!

Let's renew friendships, reminisce and dance the night away. Our mission is to mingle so here is what to expect. We will have a LIVE DJ. In fact, you will be able to help us choose songs from 1994-1997 (our high school years) to play at the reunion.

We want classmates to interact and engage with one another so we set up food stations.
Hummus Platter / Salad Selections / Bruschetta / Southwest Empanadas
Thai Peanut Chicken Satay / Mashed Potato Bar (with Prime Rib Carving Chef)

It is our goal to keep the night fun and interactive.
After 5 attire. No formal evening gowns or tuxedos necessary.

Tickets available through 10/22/2017 or while supplies last.
NO tickets will be available for purchase at the door.

https://www.eventbrite.com/e/john-muir-high-school-class-of-1997-reunion-tickets-37160604368?aff=es2

...
Class of 2007 10th Year Reunion


(above flyer was submitted by class reunion committee)
Saturday, Nov. 4th 8 PM - 1AM
@Plate 38 Bar & Grill, Pasadena
$40 per person




Reunions Chair
Tracy Richards
(626) 208-1351
X 102



If you have information concerning a class reunion, please drop us an
e-mail with your Info.
Planned Reunions
for 2017

1962
1967
1972
1977
1982
1987
1992
1997
2007
---
Alumni Seeking Reunion Info...
Jeanne Krenz, class of 1947, wants to know if any of her fellow classmates are planning a reunion? If so please let us know.
---

Alumni Class
Websites
[The alumni websites listed above are maintained by each class. Please direct all questions and comments about those websites to their respective contacts]

JMHSAA Facebook
Notice to Reunion Participants:
When you have a question or concern about a reunion event posted here, you must direct your comment to the class representative listed for that event for resolution. We only have the information that you see posted.
Notice to Alumni Committees:
While we will gladly work with you on your reunion plans, we will not plan your reunion and we are not responsible for the outcome, the sale of tickets, photographs, memory books, accommodations, travel expenses or any other expense associated with your event.
We have contact information for members of almost every class. We may share this information with your committee so that you can advise your classmates of your planned event. You must be able to verify that you are sanctioned to represent your class, however.
Make sure that those attending your event have contact information for you and your planning committee members.
We have a "Reunion Planning Guide" with a list of service providers that we recommend. We will, upon request, provide that information to you.
Notice to Professional Event Planners & Service Providers:
We are continuing to interview alumni committees as to which avenues they used to plan their reunions. Based on their responses and other data, we are compiling a list of venues, bands, DJ's, and other service providers in the greater San Gabriel Valley area that we will recommend to our alumni. If you would like to be considered for inclusion to this list please, contact us so that we may interview you. Inclusion to the list will be solely based on your past performance.
5 Reasons To Attend Your High School Reunion
(continued from above)
The old-timers nod and pontificate about the pending doom of society. Then the band begins playing a concoction of Country, Blue Grass, and Tent Revival music and the mood changes to positive reflection. Even the most caustic attendees adjust their suspenders and tap their manure-covered boots in sporadic rhythms.

"Look at ol' Mr. Brown," someone mentions about an elderly man dancing alone in the grass. "He was my parent's teacher back in '63. Looks like he's still breathing."

"I noticed Harley still has his own teeth." A collective gasp of approval comes from the group. "Did you see Wanda's fake hairpiece? Looks like a muskrat crawled onto her head and died." We're all suddenly back in high school.

Even if you hated school, you don't want to miss the excitement and renewed camaraderie that could result from attending the reunion. Here are five reasons to go.

1. It's nice to see the popular people living ordinary lives. Now, the Student Body President runs a small eldercare facility, the Homecoming Queen works part-time in the Post Office, and the athletic star lives in a rehab center somewhere in the Midwest. The worthless class clown, however, flew to the reunion in a private jet.

2. The 10th reunion is High School Part II. The same people still try to organize, direct, and cheer-lead the group. But by then, the others can drink alcohol so the orchestrated program is more tolerable.

3. The 20th Reunion encourages interesting liaisons. For those still single, divorced, or looking, suddenly the frumpy girl from History 301 looks cute or the nerd from English Class learned how to dress without white socks. Sparks fly and couples are holding hands and promising to stay in touch. There's only a 10 percent chance these flings will last after the sun rises the next morning.

4. The 30th Reunion is why Spanx was invented. Middle-age classmates have lost hair and gained bellies. They pull out reading glasses and show photos of their children. Some have grandchildren. The party is over by 10:00 pm.

5. The 40th Reunion brings the Memory Wall. Photos of smiling faces beam from a poster showing those who have died. It's a stark reminder that we're not invincible. The crowd that cheered together and stomped to the beat of "We are the Champions" is missing several members. We hug each other with intention and share photos of grandkids.
Just Go!
If you receive the invitation to your class reunion, don't automatically throw it into the trash. Consider a nostalgic visit back to a time and place that formed an important part of your life. You can attend for a few hours, if only to celebrate your current life without all the crap and drama from high school. It's okay to rent a luxury sports car for the day.