Email:
Alumni @ JMHSAA.org
You must include "JMHSAA" as part of the subject
line of your email or it
will be ignored.

U.S. Mail:
JMHSAA
P.O. Box 93367
Pasadena, CA 91109

Office Hours:
Tues. - Fri
11:00 AM - 6:00 PM
Saturday
10:00 AM - 3:00 PM
(626) 208-1351

x-101 Membership
x-102 Reunions
x-103 Scholarships
x-104 Special Events
x-105 Publicity
x-106 Turkey Tussle
x-106 Birdie Tussle
x-107 Hall of Fame
x-108 Homecoming


A portion of your purchase is donated to JMHSAA when you click the button above and shop at Amazon.com
Amazon Smile

Your Donation is
Gladly Accepted


John Muir HS
John Muir High School
1905 N Lincoln Avenue
Pasadena, CA 91103
(626) 396-5600
SCHOOL WEBSITE
Join the Muir PTSA
---
Pasadena Unified
School District
351 South Hudson Ave.
Pasadena, CA 91101

Student Transcripts
Records & Transcripts
(626) 396-3600 x88345

PUSD Website

©2017 JMHSAA
® All Rights Reserved
Updated 07/12/2017

Celebrating Over
a Decade of Service!

How to Ease
Reunion Anxiety
Feeling anxious about your reunion? Tips for a stress-free reunion experience from licensed professional clinical counselor Tina Grismer, Miami Valley Hospital:

Before the reunion, try to connect with someone you know is attending and possibly go together.

Consider helping with the reunion planning as a way to connect with former classmates before the event.

See if a partner or spouse will go with you.

Focus on what there is to look forward to and the pros of attending — not the cons.

Have realistic expectations for yourself and the event.

Remember that you can go for an hour and, if you are not having a good time, leave.
---
"Reunions really are a lot of fun - really!" - JH
Common Excuses for Not Attending a Class Reunion:

- I don't have time (family and work obligations).

- It's too far away (travel expenses).
- Not happy with my appearance, excuse.
- Not interested (nothing in common with class mates).

- I already keep in touch with everyone I would want to see.
- I'm too embarrassed (not successful enough; nothing to brag about)
Updated
September 19, 2017
High School Reunions; Don't Be Afraid to Attend Yours!
High school reunions are adult rituals intended to bring back pleasant memories of the 'glory days'. For many of us, a class reunion can also be an emotionally-charged experience. Here are some ideas to help you prepare.
With every passing year comes yet another enduring adult ritual- the High School reunion. No doubt many of us have already been to at least one reunion, or are at least anticipating an official invitation to the next one. It is one of the few constants in an ever changing world- touching base with the one group of people you know have shared the same childhood experiences with you. For many, the experience of a High School reunion is a very positive and reaffirming one. Connections with long-lost friends are re-established, and notes on careers and families are exchanged. Others, however, may find the reunion experience unsettling and emotionally difficult- old rivalries may be revived or old romantic dreams shattered. Some may feel insecure about their present career paths or achievements, while others may feel strangely disconnected from people they once knew intimately. There can be no doubt that High School reunions can be emotionally-charged events, and one should be prepared to deal with the flood of memories that will undoubtedly occur. (continued below...)
---
<![if !vml]>
<![endif]>
Is Your Class Planning a Reunion? Inquiring Minds Want to Know!?
Please, Send Us Information About Your Reunion Plans Today!!


Graduation in the Rose Bowl
One of the most unique Commencement Exercises in the world was enjoyed by Muir students.
One of the best memories of attending Muir was walking across
the world famous Rose Bowl field to accept your diploma.
Only Muir, Pasadena HS and Blair HS can make that amazing claim.
What a thrill, what an honor, what a memory!
---
...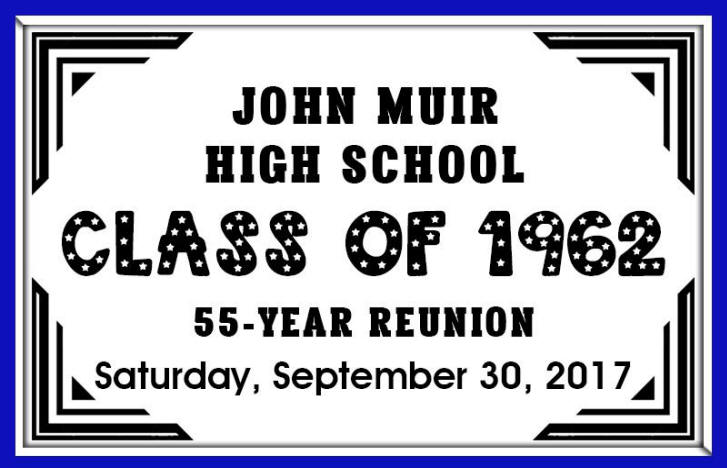 Payment Information:

¨ By June 26, 2017 - Early Bird Special
· $50.00/person

¨ By July 31, 2017
· $60.00/person

¨ By Friday, September 28, 2017 at 12:00 pm
· $70.00/person
· Space permitting

$75.00/per person at the door (cash only) - Limited tickets will be sold at the door - Credit card or money order - Checks accepted through 9/4/17

·Download the mail-in order form under the Invitation & Payment Slip section of the John Muir 1962 reunion page on www.reunioncommittee.com . Please note the classmate's name if you're paying for another classmate Payment plans available - call for details .
...
- 1967 -

John Muir High School Class of 1967 – 50th Year Reunion!
Saturday, July 15, 2017 at the Pasadena Hilton Hotel
Class representative: Wayne Yada
Contact: www.reunioncommittee.com or call 661-259-5999 to register
1972
The Class of 1972
Celebrates Noon at Mijares Restaurant
Saturday, Nov. 4th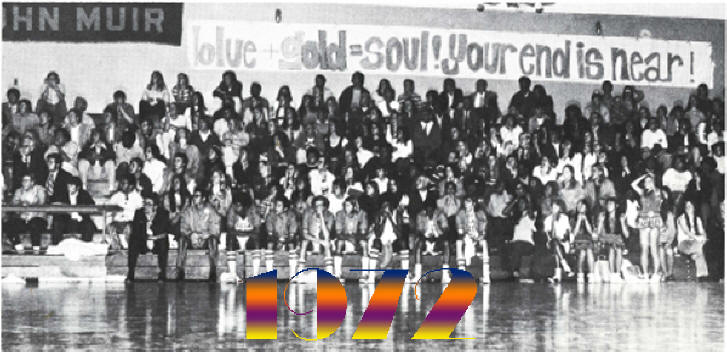 Mijares Restaurant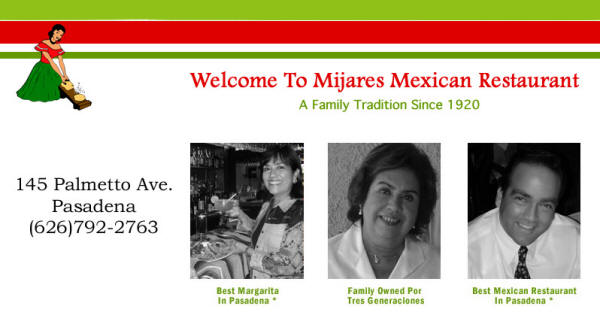 IS YOUR CLASS PLANNING ITS REUNION?
LET US KNOW
WE CAN HELP SPREAD THE WORD!
...
Class of 1977

Saturday, November 4, 2017,
7:00pm -12:00 midnight at Santa Anita Race Track Club House
285 W. Huntington Dr., Arcadia, CA 91007
$77.00 per person (until 7/7/17 then the prices will increase).

Make checks payable to "John Muir Alumni 1977" and mail to:
1726 Beverly Dr., Pasadena, CA 91104-2764

So lock in this special rate and purchase your ticket.
What better place for real Mustangs then at the track?

Please plan to attend, and let us know if you're bringing a guest!

Also, please scan and send photos that you'd like to share on the night of the
reunion in a group slide presentation. Please include fun/funny candid shots
of group activities during our school days, or reunions that you may have had
after our graduation. E-mail them to robdfog1@gmail.com

We're in the process of setting up a PayPal account to aide in making
payments for the event, but until then please pass on the word
to mail checks in ASAP because the cost will increase between now and the
event, and then again at the door, so place your reservation
while the initial ticket price is $77.00 each.

We are still trying to locate missing Mustangs of Class of 77.
Please share with us contact info of our classmates that you may have.

See you soon!
Your Class of 1977 Reunion Committee
johnmuir1977.com
1982
The Class of 1982
Celebrates Its 35th
Saturday, Nov. 4th at Mijares Restaurant

...
CLASS OF 1987 REUNION
STILL GOING STRONG

It seems like yesterday we were teens so young and hopeful and full of dreams.
It's hard to believe, but '30' years has passed, so let's reconnect and have a blast!

A night to remember at a premium location
Souvenirs / Meet & Greet / Photos / Cocktails /
hors d'oeuvres and appetizers.

Connect and network with former classmates and friends

Event Date:
Sat, November 4, 2017
7:00 PM – 11:00 PM PDT
Rose Bowl Stadium
Lounge (Free Parking in LOT F)
1001 Rose Bowl Drive
Pasadena, CA 91103

PAYMENT OPTIONS.....
1. TICKET PRICE IS $145 per person (plus processing fees)
2. FOR DONATIONS: We have an option for those who are unable to attend but would like to contribute towards the event.
LAST DAY TO PAY IN FULL: SEPTEMBER 30, 2017 ($145 plus processing fee)
Purchase tickets, Register and obtain further information at the Class of 1987 website:
https://www.eventbrite.com/e/john-muir-high-school-class-of-1987-reunion-still-going-strong-tickets-33410735409?aff=eivtefrnd
...
Class of 1992 Celebrates 25 Years

More details to follow

...
The Class of 1997
Celebrates 20 Years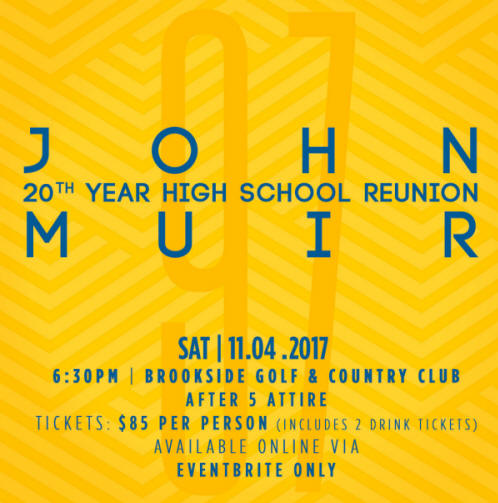 Join Us November 4, 2017 for our 1st Official Reunion Party!

Let's renew friendships, reminisce and dance the night away. Our mission is to mingle so here is what to expect. We will have a LIVE DJ. In fact, you will be able to help us choose songs from 1994-1997 (our high school years) to play at the reunion.

We want classmates to interact and engage with one another so we set up food stations.
Hummus Platter / Salad Selections / Bruschetta / Southwest Empanadas
Thai Peanut Chicken Satay / Mashed Potato Bar (with Prime Rib Carving Chef)

It is our goal to keep the night fun and interactive.
After 5 attire. No formal evening gowns or tuxedos necessary.

Tickets available through 10/22/2017 or while supplies last.
NO tickets will be available for purchase at the door.

https://www.eventbrite.com/e/john-muir-high-school-class-of-1997-reunion-tickets-37160604368?aff=es2

...
Class of 2007 10th Year Reunion

Saturday, Nov. 4th @ Dave & Busters
Westfield Santa Anita Mall
400 S Baldwin Ave. / #930-U, Arcadia, CA 91007
(more details to come)



Reunions Chair
Tracy Richards
(626) 208-1351
X 102



If you have information concerning a class reunion, please drop us an
e-mail with your Info.
Planned Reunions
for 2017

1962
1967
1972
1977
1982
1987
1992
1997
2007
---
Alumni Seeking Reunion Info...
Jeanne Krenz, class of 1947, wants to know if any of her fellow classmates are planning a reunion? If so please let us know.
---

Alumni Class
Websites
[The alumni websites listed above are maintained by each class. Please direct all questions and comments about those websites to their respective contacts]

JMHSAA Facebook
Notice to Reunion Participants:
When you have a question or concern about a reunion event posted here, you must direct your comment to the class representative listed for that event for resolution. We only have the information that you see posted.
Notice to Alumni Committees:
While we will gladly work with you on your reunion plans, we will not plan your reunion and we are not responsible for the outcome, the sale of tickets, photographs, memory books, accommodations, travel expenses or any other expense associated with your event.
We have contact information for members of almost every class. We may share this information with your committee so that you can advise your classmates of your planned event. You must be able to verify that you are sanctioned to represent your class, however.
Make sure that those attending your event have contact information for you and your planning committee members.
We have a "Reunion Planning Guide" with a list of service providers that we recommend. We will, upon request, provide that information to you.
Notice to Professional Event Planners & Service Providers:
We are continuing to interview alumni committees as to which avenues they used to plan their reunions. Based on their responses and other data, we are compiling a list of venues, bands, DJ's, and other service providers in the greater San Gabriel Valley area that we will recommend to our alumni. If you would like to be considered for inclusion to this list please, contact us so that we may interview you. Inclusion to the list will be solely based on your past performance.
(continued from above)
So how should you prepare emotionally for your upcoming High School reunion? Consider the following advice as a rough guideline for dealing with the highs and lows you may experience.

1. We were all 18 once, and we all lived to tell the tale. Many of us look back on our High School days with a mixture of pride and embarrassment. We can't believe we wore those clothes, got those haircuts, hung out with that crowd, said that to our dates or spent so much money on that junk. These experiences are universal, and you'll discover how universal once you start swapping notes at the reunion. If you have lingering feelings of inadequacy or embarrassment from your High School days, listen to what the others are saying. More importantly, listen to what the others are NOT saying. They are not recalling all of your earlier mistakes in painful detail. They are not holding you up to the same ridicule you may have experienced 'back in the day'. If anything, reunion stories about High School tend to be much more reaffirming and light-hearted- a feeling of 'hey, we were all in this together'. Take adult comfort in the fact that very few people even remember all the 'dumb' things you did as a teenager. Sometimes we forget to leave a lot of emotional baggage at the door when attending reunions. By approaching the reunion in an mature frame of mind, you can enjoy hearing these anecdotes without fear or dread.

2. Be prepared for 'career envy'. High School reunions can be very strange events to attend, because quite often the only element the participants have in common is the fact that they went to the same High School twenty years ago.

Some have gone on to professional careers and academic endeavors, while others sought out work in blue-collar fields, or failed to seek work at all. Whatever your present career path in life, you may feel a deep sense of failure after reuniting with 'Dr. Smith' or 'Professor Jones'.
You may even be in the position of BEING Dr. Smith, in which case you may feel resentment mixed in with the congratulations on your successful career. Either way, be prepared for a wide range of reactions from your former classmates.

The reality of most High School reunions is that some of the participants won't want to wish you well or become more acquainted. You may feel as though your career goals pale in comparison to others, but you should not use a reunion as a personal growth measurement crutch. You are not in competition with these people, so try your best to put a positive spin on your own accomplishments. Life is notoriously unfair at times, but reunions are a time of reaffirmation and growth, not more fodder for resentment.

3. There's an old flame burning in your eyes. One of the biggest emotional challenges for any guest at a High School reunion is dealing with former romantic interests, both real and imagined. At any given moment, you may find yourself between the cheerleader who broke your heart and the girl whose heart you broke. Add to that your present circumstances with a spouse or steady relationship, and you have all the ingredients for a sticky situation indeed. What you need here is perspective and emotional strength. If you are attending this event with your significant other, remember that they are very much a part of your present life and will be part of your future as well. The cheerleader and the girl you left behind are part of your past, and should probably remain there. The same holds for the captain of the football team and that geeky band guy you rejected in ninth grade. When it comes to affairs of the heart, you cannot always trust your sense of logic.

What you may feel like doing or saying at the reunion may not be the PROPER thing to do or say, especially when there are people in your life who may be hurt. Put your feelings in perspective from the very beginning.

Going to a High School reunion with a hidden emotional agenda can backfire painfully. If you are still single and have fantasies of rekindling a romance with your High School sweetheart, proceed with caution. Respect their boundaries and accept whatever reality check you are given. It is much easier emotionally to arrive at the reunion without an agenda and just allow exchanges to happen naturally.

4. "Hey! It's that: a) Nerd b) Jock c) Burnout d) Band Geek." Stereotypes die hard, and stereotypical behavior may still run rampant at your reunion. Don't be surprised if some of the former athletes still resent the studious classmates, or the former cheerleaders look down on the 'nobodies'. This is behavior that was ingrained for many formative years, and adulthood will not automatically change it. You may like to believe that you have no such prejudices in your own life, but don't be surprised if a few pop out at the reunion. You may have experienced a tremendous amount of psychological pain from your treatment at the hands of some of those now sampling the hors d'oeuvres and dancing the night away.

These issues may still affect how you view the world as an adult. You do indeed have a right to feel this way about how you were treated as a teenager by your peers. Sometimes these repressed feelings surface at reunions, so be prepared to take a long walk or spend time with friends. If you find yourself on the other end of the spectrum, don't give in to peer pressure and renew former prejudices and stereotypical views. Distance yourself from the 18 year old version that didn't know any better. A reunion may be your last best chance to make amends with some people you may have hurt in the past, or receive a heartfelt apology from a former tormentor.

Enjoy the banquets and the picnics and all the other great events at a High School reunion, but don't neglect your emotional health at the same time.