Nominations for 2016 Hall of Fame
Nominations are now closed. To those that made nominations thank you, you will be notified that we received your nomination by email.
2015 Hall of Fame Inductees

Introducing the 2015 Hall of Fame Inductees:
(L-R) Boswell, Patton, Shaheed, Henderson, Wallace, Gutierrez, Sameshima, and Bond
A military veteran, a jazz musician, a multi-dimensional volunteer, a college professor, a police officer, a poet, a business executive, and an entertainer have been selected to be inducted into the 2015 John Muir High School Alumni Hall of Fame.
Hitoshi G. Sameshima
Class of 1939
Government Service
Nolan Shaheed
Class of 1967
Performing Arts
Jim Henderson
Class of 1970
Community Service
Dr. Ricky Gutierrez
Class of 1971
Education

2015 Hall of Fame Inductees

Rodney D. Wallace
Class of 1971
Government Service
Dr. Bruce Bond
Class of 1972
Writing
Waraire Boswell
Class of 1993
Business
Eugene "Gene" Patton
Jim Brownfield
Service Award
A ceremony honoring these inductees was held Saturday, November 7, 2015, at the Rufus Mead Auditorium, the school auditorium. Visit the bio page for full details of these inductees.
Nominations for the 2016 Hall of Fame are now being accepted. You must use THIS FORM to submit your nominee. Nominations must be submitted to reach us by Friday, April 15, 2016, 5:00 PM (PT).
I was living at home with my mom. My credit card was maxed out," Muren says, describing his life in the mid-1970s. "And then this film 'Star Wars' came along."

Fast forward to June 1999, when visual effects master Dennis Muren was honored with a star on the Hollywood Walk of Fame, the first visual effects artist to ever be so recognized. He has also been the recipient of nine Academy Awards (including special achievement awards), the most of any living movie-maker.

Muren worked on the first finished effects shot on "Star Wars" - looking up from a trench and seeing a cannon shooting on the Death Star. After his job with George Lucas was finished, he worked with Steven Spielberg on "Close Encounters of the Third Kind." Still, he thought these were contract jobs, not a career. It wasn't until years later that special effects cemented itself as an actual industry that was here to stay.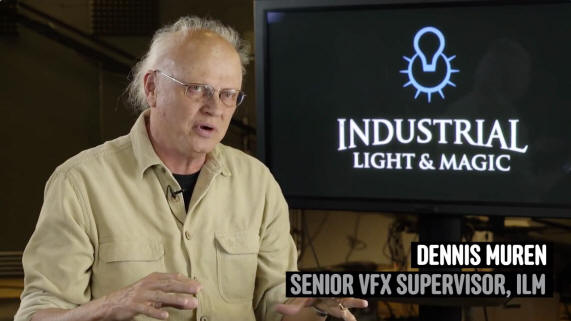 And now, Dennis Muren's name is synonymous with the visual effects he helped usher into the industry.
So, as you head to the theater this weekend, know that our very own Dennis Muren (Class of '64) is the Senior Visual Effects Supervisor on the upcoming movie "Star Wars: The Force Awakens."
He is known for his work on Star Wars: Episode IV - A New Hope (1977), Star Wars: Episode V - The Empire Strikes Back (1980) and Star Wars: Episode VI - Return of the Jedi (1983). Dennis was inducted in the Muir Hall of Fame in 2012.