Cynthia Lake's passion for clay plays out at the
20th Annual Pasadena Chalk Festival this weekend
By Michelle J. Mills, SGVN 06/16/2012 10:05:45 PM PDT
John Muir High School's art teacher Cynthia Lake poses Tuesday, May 29, 2012 in the school's art studio. Lake, a 40 year potter who likes the temporary nature of chalk, will have a space in the Pasadena Chalk Festival.
The walkways of Paseo Colorado in Pasadena will be lush with color and form during the 20th annual Pasadena Chalk Festival Saturday and Sunday. Close to 650 artists will spend two days on their knees creating images that will take only a few minutes to be washed away when the festival is over.
In the fray will be Cynthia Lake.
Lake is as passionate about art as she is about Pasadena. She has been an art instructor at John Muir High School, her alma mater, for 20 years and has worked with clay for 40. This year marks the 18th time she has participated in the Pasadena Chalk Festival.
When Lake first learned of the event 19 years ago, she took her toddler Jake along to check it out. While there, the two tried their talents in the public art area. The next year, she signed up as an artist and toted Jake with her. He created a 5-foot mural of Charmander, one of the Pokemon characters, next to her space. The following year, Jake, age 6, entered as an artist and did a full-size mural on his own. Jake is now 21 and an art major at Pasadena City College.
Jake's younger brother Miles also participates in the Pasadena Chalk Festival. He began as Jake's assistant 10 years ago and quickly went on to draw his own designs.
Cynthia Lake is primarily a potter, who approaches her art in various ways.
"Sometimes I'll have a very directed idea, if I have a commission piece or I have a need for something, I'll start with that," she said. "When I'm doing what
<![if !vml]>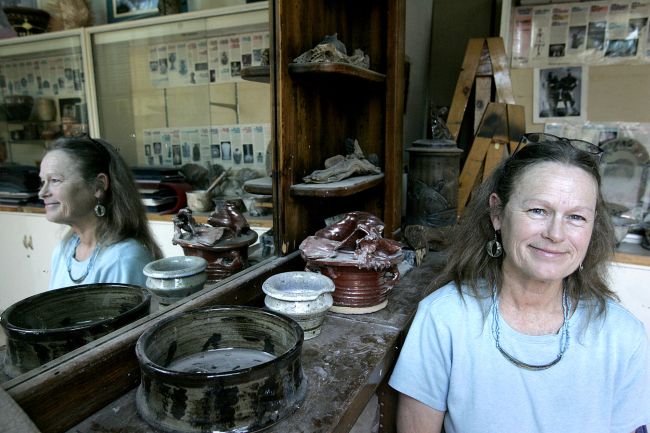 <![endif]>
(SGVN/ Photo By Sarah Reingewirtz)
I call my exploration periods, I generally have an idea of something I want to make and then I like to see the process change from the first to the last piece. Maybe it's a series, maybe it has some relationship, but that's not always necessary."
For the Pasadena Chalk Festival, she works "old school" style by creating a grid and chalk line and then transferring the design in a paint-by-numbers manner. Usually Lake makes copies of classic works by artists like Van Gogh or Kandinsky, adding her own take to the piece. She also incorporates her orange fish icon, Henry, into the mural.
"I always have my fish in there somewhere," Lake said. "It's like `Where's Waldo."'
Lake hasn't revealed her plans for this year, but will probably pay homage to Andre Derain, a French Fauvist sculptor and painter who liked lots of color in his work.
Lake was always creative. When she was a child her father gave her a hammer as a gift and she and her brother would always build things. Her passion for art began when she was attending high school, where she learned macramé, weaving, jewelry making, ceramics and other disciplines. She went on to study at Pasadena City College, Cal State L.A., Cal Poly Pomona and the University of San Diego.
When Lake came to teach at John Muir High School, she designed and, with her brother's help, built the student art studio.
Lake likes the respect, admiration and friendships that have developed among the participants at the Pasadena Chalk Festival, and feels honored to work alongside accomplished artists like Randal Williams and Simon Estrada. But most of all, she loves the transient nature of the art.
"When I draw on pots, it's something that's forever," she said. "When I make something out of clay, it will be here long after I'm gone.
"But when I do the Chalk Festival, I get to watch them wash it away. I love that it is there for a moment, almost like a piece of music. It's there and then it's gone. You have to capture it while it's there because it's not going to be there afterwards."