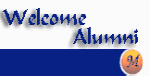 Contact Us
"JMHSAA" must be included on the subject line of your email or we will delete it unopened.
Alumni @ JMHSAA.org
JMHSAA
P.O. Box 93367
Pasadena, CA 91109

(626) 208-1351


©2011 JMHSAA
® All Rights Reserved

Updated
September 06, 2011
Celebrate Life
In this section we feature Muir Alum celebrating remarkable milestone or just another day in the life. After all everyday is "Another Gift of Life" so why not celebrate it!

Birthdays... Births... Outstanding Achievements... A New House... A New Car... A New Job... A New Attitude... Share it with everyone.