New Marquee for Muir
On Tuesday, January 17th, the sun arose over the Muir marquee for the final time The marquee that was installed in 1982 (or there about) has been unusable for the past 5+ years due to the destructive nature that was supposed to bring improvements to the campus during the Proposition "Y" days.

Removing the Old Marquee
By 9:00 that morning the removal of the old marquee had been completed and the installation of the new marquee had begun...

Preparing the Pole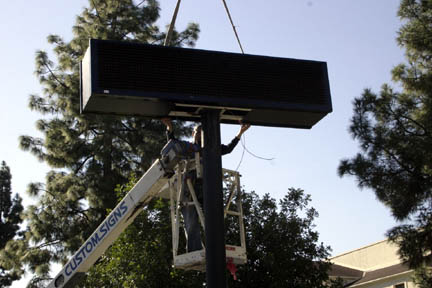 Installing the New Marquee
3:00 P.M. and the sign is complete.
Thank you, Tomark Sports for your hard work!
The New Marquee - Completed
After years of inactivity, the marquee in front of John Muir High School, 1905 Lincoln Ave., Pasadena, has been replaced, thanks to donations from alumni, businesses, individuals and civic organizations.
The original marquee was rendered unusable several years ago, after maintenance crews making landscaping improvements with Proposition Y funding ruptured underground cables, which also cut off heating to the school auditorium.
"Over time, the old sign became outdated and needed to be replaced," said Mark Levy, president of the John Muir High School Alumni Association. "The (Pasadena Unified) School District lacked the funding to replace it, so the Alumni Association decided to take action to come up with the money through private donations."
Among the major benefactors was the Pasadena Tournament of Roses Foundation.
The marquee was designed and installed by Tomark Sports under the direction of the Alumni Association. Tomark provided training to school staff, which will maintain the computer-operated sign.
"It is our hope that this new light shining in front of the school will help bolster the morale of the students and staff at Muir," said Levy, a 1967 graduate, "and that it will announce to the community that Muir is here and thriving."