Membership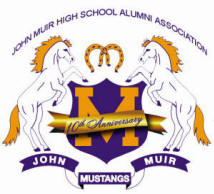 Celebrating More than a Decade of Service to Alumni & School
We are so very proud that we are celebrating a milestone for the John Muir High School Alumni Association - More than Ten Years of Service to the Alumni, School, Students, Administration and Faculty of our beloved Alma Mater. We ask now more than ever that you join and become a paid member!
We thank those Alums that shared a vision and started this organization to support Muir and help to make it a better school for its students and to be a resource for the thousands of alumni that still care about the school.
Thank you to all of our members that, through their dues, support us so that we, in turn, support the school.
Please help us grow into the largest Alumni Association- Ever.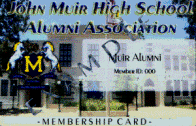 Become a Member of the John Muir High School Alumni Association. The only way you can become a member of this organization is to complete an application and send it in or join online here. So why not do it today. It's only $25 annually and we can do so much to help make Muir better when we put all those dues dollars together.
We need you, won't you Join Today? And don't forget those Member Benefits !
A few words about Facebook. While we encourage you to join our Facebook page and join in
on the varied conversations that are lively and informative, joining Facebook does NOT make you a member of the Alumni Association. We realize that there has been some real confusion about that so we want to make it clear that there is only one way to claim membership and that is to complete an application and send it along with your check or to pay your dues online and receive your membership card. That's it - So no more confusion, right?