Celebrating Muir Alum...

Muir Alum Celebrate 100 Years of Life

I am a fellow resident of Richard's and thought perhaps John Muir High School and the Alumni Association might like to know about his milestone birthday.
Richard is a true hometown boy—born in 1915 at the Pasadena Women's Hospital (now the Huntington), went to Washington School and then on to John Muir.
The 1932 "Sequoian" yearbook lists Richard as President of the Quillonian Club and Editor of its magazine, Muir Commissioner of Publicity, and Editor of the "Trail Blazer."


Excerpt from the 1932 John Muir JC Sequoian Yearbook
After graduation, still during the Depression, Richard took a civil service exam and got a job as a letter carrier in Pasadena. At the onset of World War II, Richard enlisted in the Navy and served on the island of Guam as the Postmaster. He had his own Quonset hut with the Post Office in the front and his living quarters in the back! When he returned home to the States, he resumed a job as a letter carrier with the Post Office in Pasadena and at one time as a supervisor in San Marino.
Sadly, Richard's twin brother Robert, also an alumnus, passed away several years ago. Richard is a widower and father of three adopted daughters. In his retirement, he enjoys walking (as a carry over from his postman days) and playing his piano that he has in his room—playing all the great old tunes of the early 1900s—all from memory. (He says he never read music!) He watches television news and is still a dedicated daily subscriber to the "Pasadena Star News."

Regarding the Star News, Richard has told us fellow residents here at Del Mar Park that as a student reporter, he would routinely bicycle the Muir sports news down to the Pasadena Star News offices on Colorado Blvd. after a game. He related the story of covering a school athletic track meet at the campus when the Long Beach Earthquake struck on March 10, 1933. Then when he bicycled the results of that meet down to Colorado Blvd. to the Star News that day, he found the building surrounded by a crowd of people clamoring for information about the quake.

Dick, his daughter and friend celebrating his milestone

There was luncheon with Richard's family and friends joined him for the big celebration. Members of the Alumni board were in attendance and presented Dick with a lifetime membership and a certificate in honor of his one-hundredth birthday.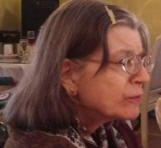 About the author...

Christina Rose, Retired Staff Graphic Artist at Pasadena City College,
was kind enough to invite us to celebrate with Dick on this momentous occasion. She has promised to write about her remembrances of Pasadena in the near future.