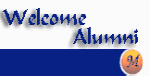 Contact Us
"JMHSAA" must be part of the subject line of your email or it will be deleted.
JMHSAA
P.O. Box 93367
Pasadena, CA 91109
(626) 208-1351
- - - - - - - - - - -
John Muir High School
1905 N Lincoln Avenue
Pasadena, CA 91103
(626) 798-7881
Updated
August 28, 2015
©2012 JMHSAA
Registration
We do hope that you will join the Alumni Association, but if you choose not to do so at this time we can still keep in touch with you, if you'd take a moment to register with us.

(*Required information to submit form)

Personal Registration
Joining JMHSAA is the best way to support Muir and stay in touch with the events and information concerning alumni and the schools itself. Please click here to download the membership form.